During the Covid-19 pandemic everyone has had to adjust to a new way of living over the past year and it seems like this is going to drag out into next year as well.  I did some research and discovered that one of the most pleasing home improvements happening during the past year was gardening and back yard living spaces.  Since people are kind of stuck at home, these little areas created endless possibilities for relaxation and enjoyment.  I love our outdoor space and we have planters and flowers and we have our morning coffee and evening wine on the patio.
Patios
Depending on the style of your home, a patio or a deck are the only two options for these kinds of features.  I prefer a patio as it's at ground level and it seems bigger to me as you can landscape the sides of the patio. Go on and read here on what is the best thing you can do to care for your lawn.  You can create a pond or build a fireplace and then add a pergola over the top and many other decorative ideas that will create a beautiful outdoor space.  We love flower pots.  Big pots and medium sized pot all the way down to small pots.  The add so much color and dimension to your outdoor space and you can see an example right here on how one can beautify their space.
Ponds
Ponds can be a bit of a maintenance issue but for the time you spend making them pretty based on the enjoyment you receive it's well worth it to invest in a pond.  Our pond is basically a glorified bird bath with a huge tray at the top that the birds flock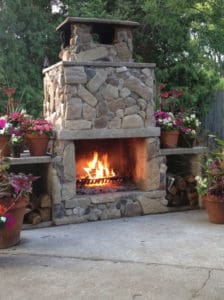 to. Dozens of birds flap and chirp all day long in the top tray of the pond.  In the evening, the Mourning Doves appear at approximately the same time every day.  This year we had crows at the pond and these guys are loud and hilarious.  They're also very big when you see them up close like we do.  Crows are one of my favorite birds and although they annoy most people they are super smart and fascinating to to watch.
Pergolas
My second favorite patio item for your outdoor living space (besides the fireplace) is the pergola.  These structures add so much character to your patio and yard that the cost is minimal by comparison. Some people paint or stain them but I thing keeping them natural so they patina in the sun is a much better look.  Natural stain all the way and after ten years you may have to re-stain your pergola it is well worth the effort for the natural look. When it comes to the indoors one should look out for the CABINET DESIGN TRENDS TO WATCH OUT FOR IN 2021
Outdoor fireplace
My favorite feature in our outdoor living space is the fireplace.  We use this feature all year long and we love it.  The sound of wood cracking and snapping and the aroma of a fire is mesmerizing and wonderful.  When it's cold we grab a hot drink and pull up the comfortable chairs and poke the fire to keep it burning beautifully …. The stone design and size ad balance and interest to the patio and becomes the focal point of the space.
Furniture
It doesn't do you much good when you have a beautiful patio and uncomfortable furniture to sit on.  This is an important aspect ofthe overall look and appeal to your outside living space.  It must be comfortable and inviting otherwise you won't use it as much.  Furniture is a personal thing for each family but making a conversation area for for or six people is ideal.  Our patio contains four very comfortable chairs and each chair can see the fireplace.  On warm days we don't sit close to fire and we just watch it from a distance.  On cold days we can move the chairs closer to stay warm.  Needles to say the furniture needs to be weather resistant.
Whatever your idea is for what makes a beautiful outdoor patio there are endless ideas online and images to look at for stunning ideas to make your outdoor living place magnificent.