Do you know what kind of style your home interior is? By style I mean is it contemporary or modern? Is it classic or traditional? Is your home rustic or country? Do any of these styles even matter?
I believe it does matter and you should care about your home because your home is a reflection of you.  We performed a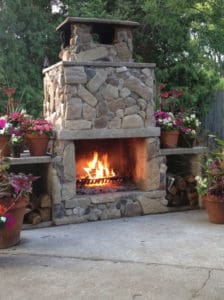 remodel some time ago and we've been remodeling and adding different looks ever since. We now live in a home that's a mix between rustic and traditional with a splash of contemporary and urban modern. Don't laugh but it's true. We have a mix of beautiful things in our home that we have collected over the past ten years and we love every hand-picked piece we have. Notice how I said, "love every piece we have." That's the key to good living in my opinion. I want comfortable chairs and a warm and inviting home that everyone loves to visit because it's comfortable, warm and inviting.
I want fireplaces roaring and I want water features gently relaxing you when you sit on the patio under the pergola.
The music is always playing and is piped throughout the home as well as outside and all the music is controlled by an iPhone using Sonos and Spotify. Do you want to listen to Christmas music? Done! Do you want to listen to Beethoven? Done! Do you want to listen to any artist who has ever created a piece of music? Done! All with the click of a mouse on my phone or iPad in about five seconds. Spotify and Sonos my friends. The very best things if you love music.  (Hint: Please buy the Premium version of Spotify.  It's $10.00 a month and worth every penny.)
We have no classic living room per se as the upstairs is basically one giant kitchen with a sitting area and the dining room table. When we did the remodel we tore out all the walls and closets and opened the room up in one big room. In essence, we turned our upper-level living area into a condo. The couch and TV are in the lower level where the bar is and the couch is a leather sectional from Rubins and the lounge chairs are from Pottery Barn and when you sit in them you never want to leave. Now that's what I'm talking about. Comfortable! The bar is gorgeous and the chairs are padded and comfortable.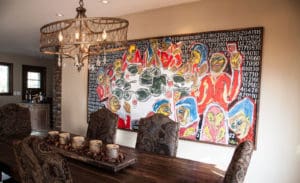 Our dining room table is hand made from the wood we saved from our remodel and the chairs came from Roughing It In Style. The industrial-looking chandelier came from Madison lighting and I have candles in the center that are actual birch tree logs that have been hollowed out at the top and votives are placed inside. When we have friends and family over for dinner we sit at the table for hours. I'm not sure what kind of style mix our home is but it's fun and beautiful.
The outside just had new cedar shakes installed on the back of the garage and wraps along the back of the house. A new floor to ceiling window and glass door have been installed and it looks fantastic! We sit at our outdoor fireplace which I made all year long.
Like I said from the beginning, we're not sure what style of home we created but it's warm, comfortable and inviting.