If you're thinking about adding an outdoor kitchen to your home, now is the time to discuss your options with a trusted exterior renovator. In fact, it could be a good time to do a few projects! An experienced renovator can offer advice about what kind of construction you'll need for an outdoor kitchen and whether you may want to upgrade your siding, windows, or doors while you're at it.
Summer is coming in hot, and there's no better time to be thinking about the potential of an outdoor kitchen. Including an outdoor kitchen on your property not only improves the property value, but it can also be an excellent space for entertaining, enjoying time with family, and even improving the overall efficiency of your home!
You'll want an outdoor kitchen that works well and looks good doing it. Exterior Renovations in Madison can supply the siding, roofing, windows, and doors you need to create your dream outdoor kitchen.
But if you're wondering if an outdoor kitchen adds value to your home, the answer is definitely yes – and you can compound this value by upgrading your siding at the same time.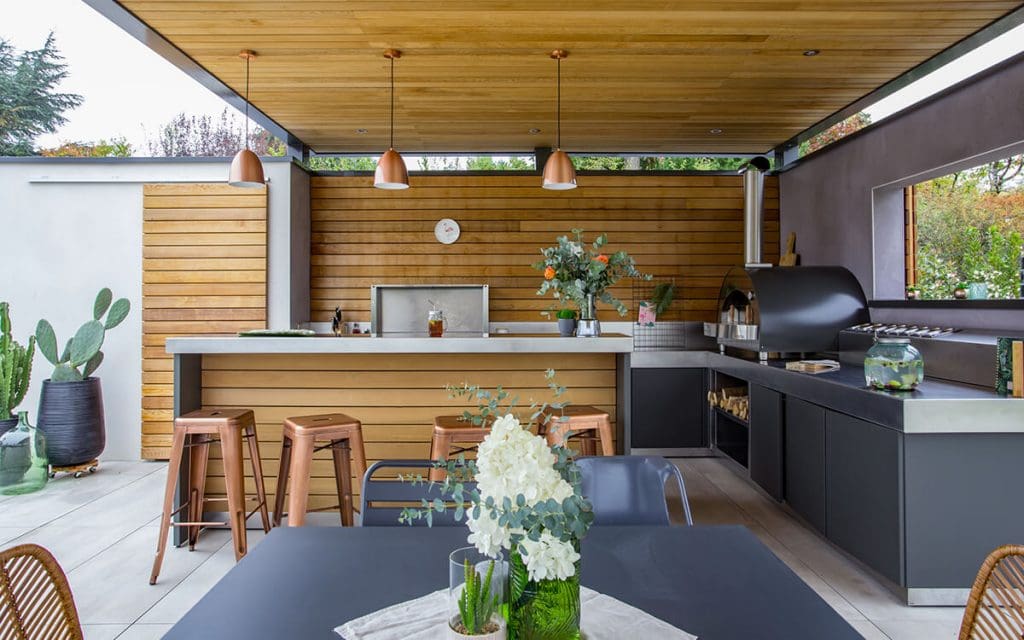 Return on Investment
Compared to other home improvement projects, adding an outdoor kitchen has a high return on investment or ROI. According to research, sellers can often recoup around 71% of the costs at reselling. An upgrade to your exterior siding is another great choice for home improvement with an ROI of up to 89%. That's why it's a great idea to tick two projects off your to-do list at once by upgrading your siding at the same time you add an exterior kitchen.
Typical of other home improvement projects, you aren't likely to make more than you spend. However, if you add an outdoor kitchen to your home for your own enjoyment, you're still likely to have a high return on that investment when it comes time to sell.
That's why, if you're thinking about adding an outdoor kitchen to your living space, it's a good idea to go for it now! The value you get out of the kitchen comes in part from how much you get to enjoy it, so it's good to start early.
Grow Usable Space
Adding an exterior kitchen to your home also adds to your usable space. If you're looking for a way to get a little bit more elbow room for you or your family, an outdoor kitchen may be just the answer you're looking for.
An outdoor kitchen basically adds a new room to your home – without all the associated costs. These types of kitchens have grown in popularity because they make it easier than ever for homeowners to entertain large groups, hang out with family and friends, and even just relax on a nice evening.
Increases Home Appeal
Let's face it, everyone wants to impress the guests in their home. An outdoor kitchen is a great way to get people to say, "Wow!" when they visit. Upgrading your siding at the same time is a great way to make a positive impression. And it can appeal not just to friends and neighbors but also to potential homebuyers.
When thinking about the investment of an outdoor kitchen or new siding, it's important not to overlook the social currency of having a great entertaining space – you might even end up saving money having friends over instead of eating out.
While "appeal" is important when it comes time to sell your home, having an outdoor kitchen with new siding can make your home generally more appealing to everyone, including yourself. By treating yourself to these improvements, you might find that your own estimation of your home's "value" increases!
Ultimately, when planning an outdoor kitchen, new siding, or other exterior renovation, it's important to think about how it will mesh with the rest of your property and what you want to use it for. For example, if you have a large house, you'll want to build a kitchen that is well-balanced to the overall size and layout. For siding, you'll want something that's the right color for your home and durable enough to withstand the weather year-round.
A reliable contractor – like Exterior Renovations – can walk you through the options and help you determine exactly what kinds of home upgrades are right for you. Why not call today to get started?