Siding never catches a break. It isn't supposed to, so it better be durable and strong when you need it. Siding is exposed to the elements 34/7/365 and in Wisconsin, that's saying a lot. At Exterior Renovations we only use the best products on your most valuable possession, your home and one of those products is James Hardie Siding.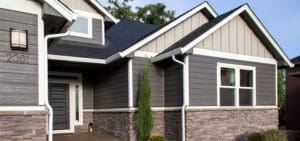 Hard working products like siding need to stand up to the wind, rain, snow, ice, salt, and blistering heat. From seaside home on the cape to frozen tundra's of Wisconsin, the colors need to be vibrant and the durability needs to stand the test of time and the elements.
James Hardie fiber cement siding is the recognized leader in siding and trim products and they continue to push the envelope for design, beauty, and functionality.
If you live in the country or are planning on building in wooded areas then fiber cement products from James Hardie is the way to go. Woodpeckers, squirrels, chipmunks, gophers, and insects can cause tremendous amounts of damage to your new home but not with fiber cement siding and trim. You can prevent such occurrences with the help of pest control new orleans.
Water is probably the most destructive element that happens to your home. The constant temperature changes and moisture can cause normal products to swell and crack over time but not with James Hardie moisture and rot resistant products. Moisture in the ceiling can cause pests and bacteria to breed on them, which can be over come by taking services from pest control indianapolis. These products do not change with moisture increases or fluctuations in temperature.
Vinyl siding will melt quickly in case your home catches fire but not fiber cement products from James Hardie. Your home may be destroyed in the fire but you will have much more time getting you and your family to safety with cement siding then with any other siding on the market.[/vc_column_text][vc_column_text]Why Hardie products?
Well, for starters it's the industry leader and it's the best. If that's important to you then you don't have to read any further. If not then Hardie siding is five times thicker then vinyl siding which means the wood-grains are deeper for a more natural looking siding.
James Hardie products are noncombustible and resistant to melting or buckling over time.
Hardie cement siding is superior to wood siding because they resist moisture and mold damage. If you were thinking of engineered wood over cement board then Hardie products are the clear winner as engineered wood will warp and buckle over time where cement siding will not.
So if adding the best product to your home is important to you then call us and let's start the conversation about James Hardie products.