One of the easiest things to forget about around your home is your current Wifi system and set up. If you're like me as long as it works and you've never had a problem, years could go by before you noticed how awful your old wifi router is. This just recently happened to me.
I'm an Apple fan and love all Apple products but the other day my Apple Airport Extreme router would no longer function leaving us with a major problem. No Internet service!  Our home is completely wired where if the Internet goes down we are living in the dark ages. No music and no television. We cut the cord and live on YouTube TV and our Amazon Fire Stick throughout the house on our Charter Spectrum Internet. It's amazing by the way and the Internet rarely goes down so it's a new way of living for us if there's a problem.
When the router crashed I was forced to go to Best Buy and get a new router. I had already researched routers ever since cutting the cord and knew which one I was going to purchase but just hadn't done it yet and now because we were completely screwed I couldn't wait for an Amazon order to arrive as I needed the router now.  My wife needs Internet for her job in the early morning hours with a medical scheduling for Dean SSM Medical Group at the East Clinic.  Without the Internet she has to go to work at 5:00 AM.  So, I needed a router now. Today if not sooner.
So, off to BestBuy I go and I picked up the Netgear Orbi RBK50 MESH Router. Netgear claims that this router will cover a 5,000 sq ft home. We have a 2,000 sq ft home. Hooking it up was a breeze and the set up is handled from the App downloaded from the App Store and within ten minutes I was set up with an Internet that is so powerful I was amazed. Gone are the days of the old wireless systems where a microwave would give you cutouts and going into the basement left you with no or weak service.
The Netgear Orbi is a tri-band mesh router which means the router breaks down the signals into three separate systems depending on how many devices are connected to it. This Orbi has a satellite unit that I placed in the basement that talks to the main router in the office and when they are connected, the two now act as a bubble that surrounds your home. No more cutouts, slow downloads, or weak service. It was a thing of beauty and it made me wonder how I put up with slow service all these years.  But, I didn't know my old system was slow until I got the Orbi. One of the reasons I went with the Orbi is because of the four ether net ports on the back instead of two that others offered.  There was also the feature called the AC3000 which is a very fast wireless protocol that the other MESH units didn't offer.  This raised the price a little bit but for me it was worth it.  If that was too technical for you I have attached a link for you to review some of the high quality Mesh units and compare the differences on YouTube.
Here's an example we can all relate to, with my old router I would perform a Internet speed test by going to speed.com and click the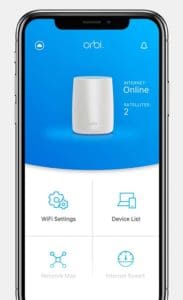 "Go" button and your Internet upload and download speed are tested in about 20 seconds. My previous download speed was 50-60 mbs on any given day. If you went to the basement the speed was 20-30 mbs. That's pretty slow. With the Netgear Orbi RBK50 MESH Router I'm getting 450 mbs everywhere in the house. Wow! That's fast! Since we cut the cord we would get buffering on the Amazon Fire Stick which would happen from time to time which is annoying. That's been fixed with the Netgear Orbi RBK50 MESH Router. The downside of this router is that it's a little pricey at $329.00 and it's a little big and not too attractive either. But I don't care about that anymore once the speeds increased.  A cheap average router is $140 and the problem is my wife often works from home and has to video conference with medical staff so she needs a great system and I was not going to penny-pinch at this point on this important piece of equipment.
Mesh routers are the newest coolest thing these days and before cutting the cord I had never heard that term. I completely understand it now. Here's how I set up the system. I created one network for our home where all the Amazon Fire Sticks are connected and then I created a second "Guest Network" for phones, computers, and guests to use when they arrive. The online operating system you set up by opening up a free Netgear account allows you to monitor your entire network and all the devices that are connected to it. You can see where the heavy loads are going and all the specs related to each device connected. If you have a large home you can buy an additional satellite unit and plug it in. Then all you have to do is go to the app and follow the steps to connect it to the router. It takes two minutes.
So here's the bottom line. If you're remodeling your home or having an addition built think about the future of your current Internet router and take advantage of all the new features today's router provides. I completely forgot about the router because my old router worked and that was all my wife and I cared about. Now it really works and I never knew what I was missing until now.